Dermamedics | Naturally Simple Skincare
DermaRad Relief with 4% lidocaine & 1% Allantoin
DermaMedics now offers two versions of DermaRad Relief lotion, our current version and a new OTC version that modifies the original formulation of DermaRad Relief Topical Rehydrating Emulsion to include 4% lidocaine and allantoin. These two FDA approved OTC topical active ingredients  provide enhanced burn relief and skin protection for patients undergoing radiation treatments or for patients  receiving any medical treatments that can cause skin damage, burning and pain. Finally, DermaRad Relief with Lidocaine is ideal for use after the skin has been exposed to too much sun. Applying our lidocaine version of DermaRad Relief will give instant relief from the painful effects of sunburn.  4oz

UPC: 0689396008052
FREE Shipping When You Spend $250+
Cancer Patient Responses Regarding the Use of DermaRad Relief® Skin Care
(Response from 49 Patients)
93.8% of patients surveyed were satisfied or more than satisfied with cosmetic benefits of DermaRad Relief®. (46 out of 49 patients – 23 very satisfied, 23 satisfied, and 3 not satisfied)
91.8% of patients of patients surveyed would recommend DermaRad Relief® to a friend with cancer that was experiencing cosmetic skin care appearance problems because of their treatment
Why Use Our DermaRad Relief System?
Cancer patients undergoing radiation treatment will likely experience significant cosmetic skin problems such as dryness, skin roughness and redness. These conditions typically worsen as radiation treatments progress. To help maintain a healthy looking skin, patients need to use creams or lotions that provide extremely high levels of moisturizing oils, humectants, and antioxidants. DermaRad Relief Rehydrating Emulsion was specifically designed to meet the skin care needs of radiation patients. This unique formulation utilizes gentle, skin friendly oils and humectants resulting in a highly moisturizing lotion that is soothing and gentle to sensitive and damaged skin. In addition, the patented antioxidants in DermaRad Relief are potent inhibitors of surface free radicals.
The DermaRad Advantage

DermaRad eliminates skin dryness and rough texture caused by radiation damage to the skin.
DermaRad Relief contains high levels of oils, humectants and potent antioxidants to help keep your skin hydrated with a soft and smooth texture
DermaRad is clinically tested for use during radiation treatments
DermaRad is dermatologist recommended for use during radiation
DermaRad Relief's high levels of moisturizing ingredients helps skin retain its robust and healthy appearance throughout the entire treatment period.
DermaRad Relief is the best and most moisturizing product to use during radiation
Only DermaRad Relief contains our proprietary and patented antioxidants
The antioxidants in DermaRad inactivate destructive free radicals
DermaRad is designed to be extremely soothing and gentle for sensitive skin
Non-tacky, non-sticky, rapidly absorbs into the skin and leaves no greasy film
Nurtures skin to achieve a youthful, healthy skin appearance
Additional Information
DermaRad Relief with 4% lidocaine & 1% Allantoin
How It Works
---
Because cancer patients experience cosmetic skin care problems that are not common to others, such as extreme dryness and redness, they need a skin care product with superior technology to relieve these appearance symptoms. DermaRad Relief has been engineered with a unique blend of moisturizing oils that are similar to those the skin produces, and which are required for the skin to stay hydrated, smooth and healthy looking. In addition, DermaRad Relief contains a novel, naturally occurring anti-oxidant which has been clinically shown to relieve skin dryness and reduce redness. Additionally, DermaRad Relief contains humectants that help the skin stay moisturized and hydrated. Finally, although this formulation is extremely moisturizing and soothing, it absorbs quickly and does not leave a sticky, greasy residue on the skin's surface. Because of its rapid absorption and gentleness it can be applied as often as needed without sticking to clothing.
For cancer patients concerned about changes to the appearance of their skin they should always consult their doctor to obtain recommendations for the best skin care product to use to address cosmetic appearance issues. DermaRad Relief has been specifically designed to be used at least 3 times per day (over a 24 hour period). Because it is so gentle to the skin, it can be applied more than 3 times a day and should be used whenever the skin feels dry and under-moisturized.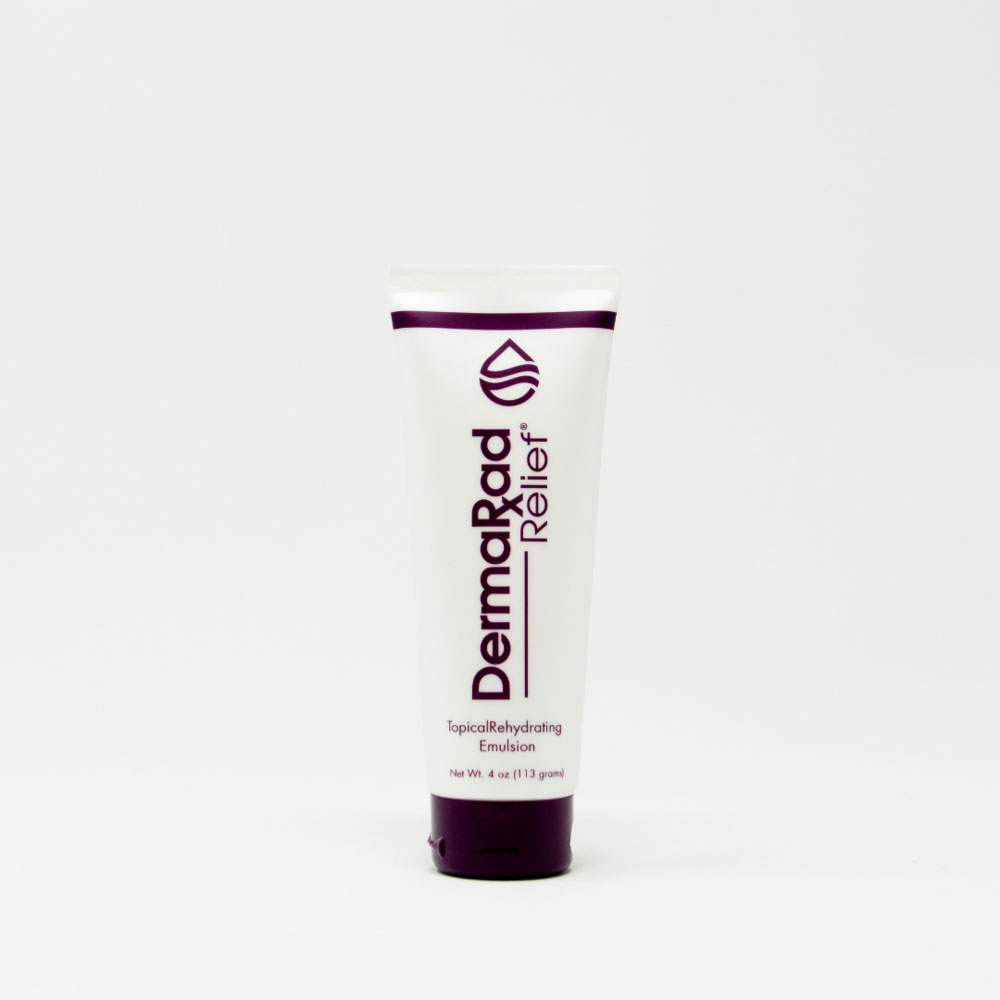 Directions For Use
---
It is VERY important that patients follow the specific use instructions included with the product. DermaRad Relief should be used LIBERALLY on skin being treated with radiation. The product should be used at least 3 times over a 24 hour period, and even on weekends. The product should not be applied within 4 hours of radiation treatment. Four tubes of product are provided with the kit. A physician should always be consulted on the use of any skin care product, including when and when not to apply product.
The use of DermaRad Relief more frequently than 3 times per day is recommended, especially immediately after any event that could cause skin dryness. At least 2 hours should elapse after applying DermaRad relief before taking a shower or bath to ensure that the moisturizing ingredients in the product are allowed to penetrate. Missing even one application can cause some skin appearance changes including dryness and redness.
Additional Info
DermaRad Relief with 4% lidocaine & 1% Allantoin
Ingredients
Please view our list below to learn about all our active ingredients.
Item Ingredients
Water, Lidocaine, Glycerin, 4-Propyl Guaiacol, Dimethyl Isosorbide, Propylene Glycol, Stearic Acid, Niacinamide, Squalane, Simmondsia Chinensis (Jojoba) Seed Oil, Caprylic/Capric Triglyceride, Cetearyl Alcohol (and) Ceteareth-20, PPG-12/SMDI Copolymer, Glycol Stearate, Cetyl Alcohol, PEG-100 Stearate, Sodium PCA, Glyceryl Stearate (and) PEG-100 Stearate, Tocopheryl Acetate, Dimethicone, Petrolatum, 4-Propenyl Guaiacol Acetate, Propylene Glycol (and) Diazolidinyl Urea (and) Methylparaben (and) Propylparaben, Hydroxypropyl Starch Phosphate, Carbomer, Triethanolamine, Disodium EDTA
Download MSDS Document
FAQ's
What changes to my skin can I expect when going through 15-30+ radiation treatments?
While radiation therapy is extremely effective for destroying cancer cells, it can also cause some damage to normal skin. Typically, you won't notice much change in your skin over the first 6 or 7 treatments, but after that the skin will become a little red. This will look like a mild sunburn. As the treatments progress the redness will increase and the skin will become sore to the touch. In order to minimize the damage to the skin and the discomfort caused by radiation, it is extremely important to keep the skin moisturized throughout your treatments.
I see that the DermaRad Relief Topical Rehydrating Emulsion is sold in a 4 pack. Do I really need to order this much? Won't one tube be enough.
One tube of DermaRad Relief will not be nearly enough to last through 15-30 radiation treatments. The product needs to be applied at least 3 times a day and must be put on liberally in order to help your skin maintain its healthy appearance
The instructions for DermaRad say to use the product at least 3 times over a 24 hour period. Is this really necessary?
Yes, it is extremely important to use DermaRad Relief as often and you can to help keep the skin stay hydrated and healthy. The more often you can use it, the better it will be for your skin. The only time you should not apply the lotion is within 4 hours of your next radiation treatment.
When should I apply the product?
The instructions that are included with DermaRad Relief provide a schedule for application. One of the most important times to apply the lotion is IMMEDIATELY after your radiation treatment. Don't wait until you get home from the hospital to apply DermaRad Relief. It should be applied at the medical office as soon as you complete your radiation treatment, so make sure you take a tube of DermaRad Relief with you to your appointment.
How much DermaRad Relief should I apply to the skin that is being irradiated?
You should always use the product liberally. The more you use, and the more often you apply it, the better your skin will look. Since the product contains only safe and gentle ingredients, you cannot "overuse" it.
What happens if I miss one or more application of DermaRad Relief?
If you forget a treatment, just get back on the schedule as soon as you can. Remember, the more you use the product the better your skin will look!
What's in DermaRad Relief that helps my skin?
DermaRad Relief contains high levels of moisturizing oils, humectants and antioxidants. The oils replace the natural oils lost from your skin because of the radiation treatments. Humectants are natural ingredients, including glycerin, that prevent the loss of water from the skin. They act as a barrier on the skin to prevent dehydration. The function of the antioxidants in DermaRad Relief is to inactivate free radicals that can damage skin. All of the ingredients in DermaRad Relief have been carefully selected to be extremely gentle for use on sensitive and damaged skin.
I was told by my radiation oncologist that instead of receiving 30-35 radiation treatments, they (should be he/she) will use a newer method, called "hypofractionated radiation" which will reduce the number of treatments to around 15 over 3 weeks. Does this mean I'm getting less radiation?
No, the amount of total radiation you'll receive will be equivalent to that you'd get if you had 30-35 treatments. The difference is that you will receive a higher dose of radiation at each treatment.
Once I'm finished with my radiation treatments, do I need to continue to use DermaRad Relief Topical Rehydrating Emulsion.
Yes, you need to use DermaRad Relief for one to two weeks after completing radiation. This allows the product to continue helping your skin during its healing period.
How do I know what area of skin to treat with DermaRad Relief?
The area of your skin that is going to be irradiated will typically be outlined with ink. You should always apply DermaRad Relief, not only to the skin inside the inked area, but also to the skin just outside the tattooed area, since radiation may reach areas beyond the marked border.
My radiation oncologist mentioned that they (should be he/she) might use a "boost" treatment near the end of my radiation therapy. What is that?
After radiation therapy to the larger inked area, your radiation oncologist may decide to give additional radiation treatment to the part of the breast that had the original tumor. This "boost" will target more radiation to the area of higher risk for breast cancer recurrence.
I was told that for part of my breast cancer radiation treatment a "bolus" will be used. What is that?
If the radiation oncologist is concerned about cancer cells being near the skin's surface, a radiation bolus is sometimes used to provide a higher dose of radiation at the skin's surface. The bolus essentially "raises' the depth of the radiation energy toward the skin's surface to make sure any cancer cells near the surface are killed.
I didn't hear about DermaRad Relief until after my 10 radiation treatment, and my skin is getting red. Is it too late to start using your product?
No, it is not too late. The sooner you start using DermaRad Relief the better your skin will look.
I am nearing the end of my radiation treatments and my skin is very burned and blistered. I was just told about DermaRad Relief. Will getting this product now help my skin?
The use of our highly moisturizing DermaRad Relief Topical Rehydrating Emulsion will certainly help damaged skin. However, if your skin is blistered and raw, we would suggest that you first use our DermaRad Post-Radiation Calming Serum. Unlike any lotion or cream, our Calming Serum contains no emulsifying ingredients that can sting skin that is blistered. This Serum is a gentle silicone based product that is highly moisturizing and can form a layer of protection on the skin to prevent moisture loss. Because it is a silicone based serum it glides onto the skin very rapidly and with no need to rub the product in. Once your skin starts to heal, you will want to switch to DermaRad Relief Topical Emulsion, which is a stronger product.
What Our Customers Say
Product Reviews