dermamedics
Restorative Serum with Vitamin C
Restorative Serum (with Vitamin C) contains 3 patented, high potency antioxidants blended together with skin friendly natural oils and a unique form of vitamin C into a gentle silicone based serum that can be used on even the most sensitive skin. Restorative Serum utilizes DermaMedics' proprietary "bioactive phase partitioning" technology to deliver these age-defying ingredients to the skin at high concentration.  This gentle moisture-retaining formulation is non-comedogenic, and preservative-free. 1.1oz

UPC: 0689396008007
FREE Shipping When You Spend $250+
Additional Info
Restorative Serum with Vitamin C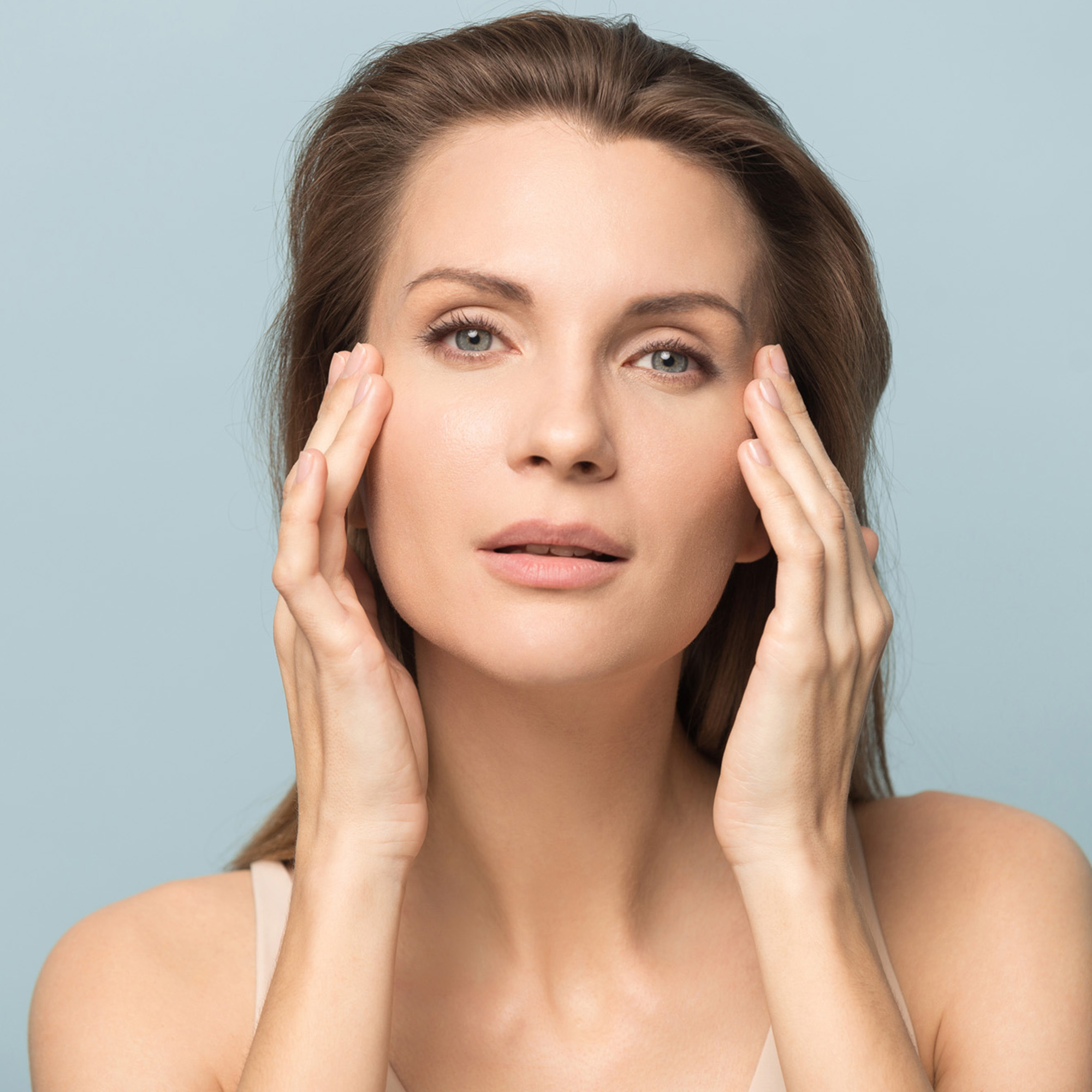 How It Works
---
Restorative Serum is a proprietary age defying formulation that contains 3 patented and potent natural antioxdants. In addition, the product contains a unique lipid soluble form of vitamin C that provides a number of clinically proven benefits to the skin. Restorative Serum is non-irritating, non-comedogenic and preservative free. It is high in natural moisturizing oils including squalane and jojoba oil. This elegant, silicone base formulation provides a water impermeable layer to help reduce moisture loss from the skin and keep the skin hydrated. Restorative Serum rapidly improves skin texture and visibly reduces age-related fine lines and wrinkles. Developed by scientists after 20 years of basic skin biochemistry and aging research, Restorative Serum combats 5 major visible signs of aging by:
Minimizing the appearance of fine lines and wrinkles,
Inactivating free radicals that can prematurely age the skin
Smoothing skin texture,
Providing a more even appearance in skin tone,
Reducing the appearance of blotches and age spots
Restorative Serum utilizes DermaMedics' "bioactive phase partitioning" to deliver the bioactive complex of 3 patented antioxidants plus vitamin C to the skin's surface at high concentration to rapidly improve the appearance of mature, and environmentally damaged skin.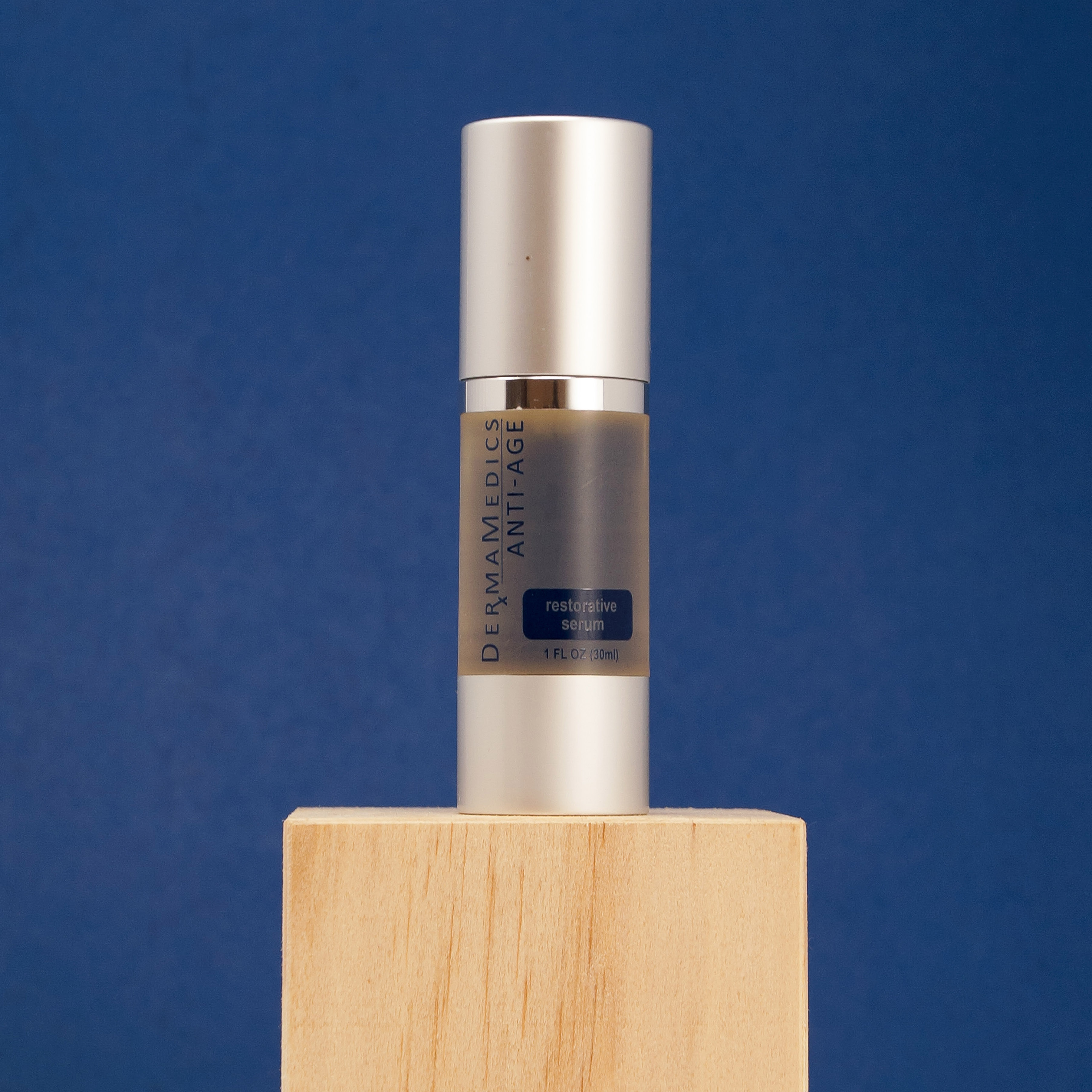 Directions For Use
---
After cleansing skin with DermaMedics Foaming Facial Cleanser, apply a small amount of Restorative Serum to aging-prone areas of the face and neck, back of hands, and to other areas of concern. Because this unique serum spreads quickly and evenly, a little goes a long way. Do not over apply. Once Restorative Serum has absorbed into the skin other products (for example, makeup) may be applied. However, please allow Restorative Serum to fully absorb before applying the second product. Restorative Serum is ideal for all skin types, including very sensitive skin, and can be used both in the morning and evening. As with any product, when using Restorative Serum for the first time, apply to only a small area of skin to test for compatibility. If if irritation develops discontinue use.
Additional Info
Restorative Serum with Vitamin C
Ingredients
Please view our list below to learn about all our active ingredients.
Item Ingredients
Restorative Serum
Cyclopentasiloxane and Dimethiconol, Dimethicone, Helianthus Annuus (Sunflower) Seed Oil, Simmondsia Chinensis (Jojoba) Seed Oil, Squalane, Tetrahexyldecyl Ascorbate, 4-Propyl Guaiacol, 4- Propenyl Guaiacol Acetate, Fragrance, DC Yellow 11, DC Green 6, DC Red 17
Download MSDS Document
FAQ's
Does this product possibly cause an allergy or iritate my sensitive skin?
As stated above, Restorative Serum contains Therosol®III complex, a mixture of pure plant derived ingredients. These ingredients are found naturally in olives, cloves, and cinnamon and have an excellent safety profile. However, since one or more of these ingredients is also found in perfumes, someone who had previously become sensitized to a perfume that contains these ingredient may then be sensitized to this product. A sensitization reaction can occur very quickly and cause the skin to turn red and/or become itchy. This is why it is important to first test Restorative Serum on a small area of your skin for at least 3 days before applying it to other areas of the face.
Don't see the answer you were looking for? Email us at Hello@dermamedics.com
What Our Customers Say
Product Reviews