dermamedics
10X Defense - Restore And Revitalize Oil
10X Defense Restore and Revitalizing Oil FIGHT SKIN DAMAGING FREE RADICALS with DermaMedics' patented "super-antioxidant" complex fortified with 10 high potency antioxidants and 7 natural skin nurturing oils.  
UPC: 0689396008014
FREE Shipping When You Spend $250+
Additional Info
10X Defense - Restore And Revitalize Oil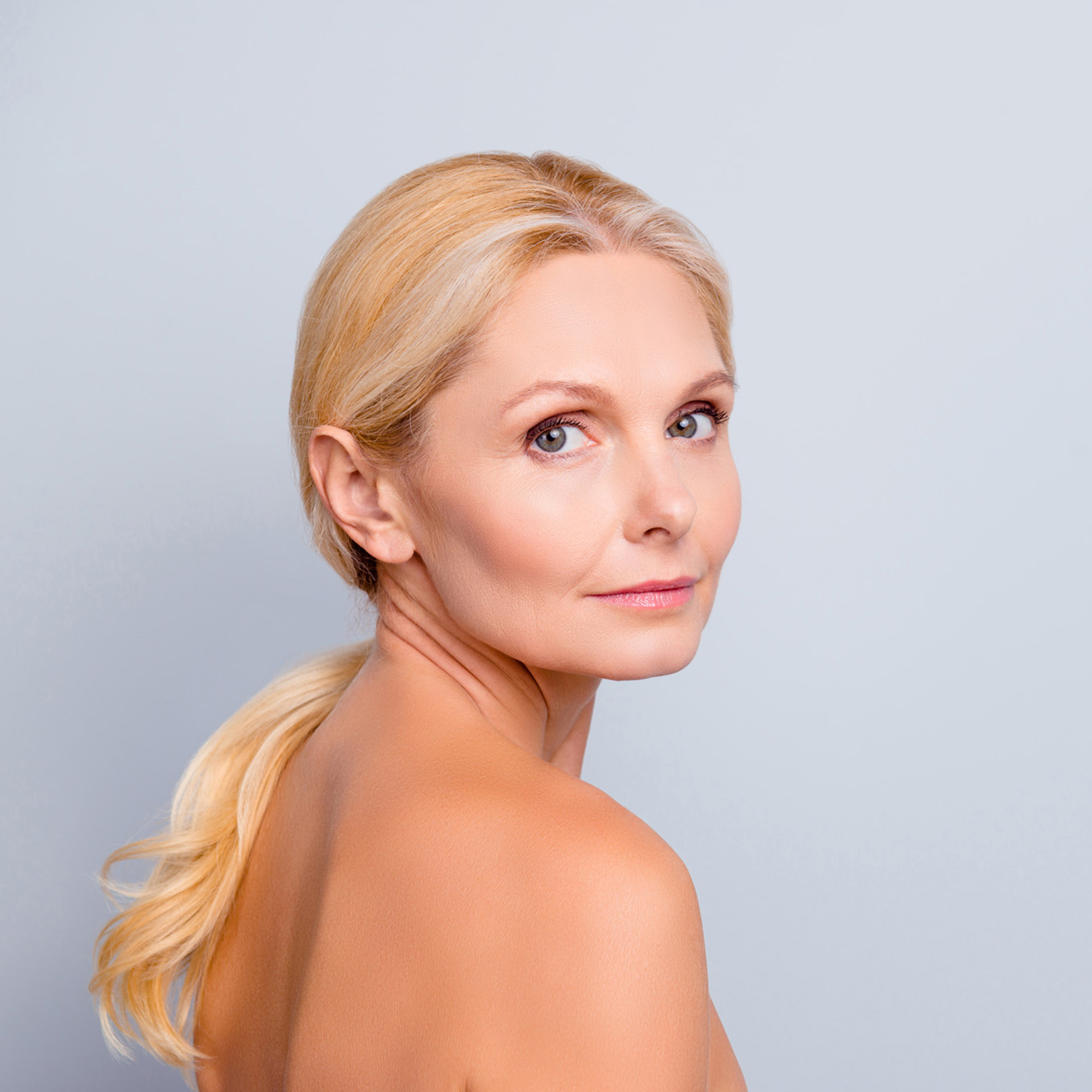 How It Works
---
10X Defense Restore and Revitalize Oil is designed specifically to inactivate skin damaging free radicals that are produced in the skin by sun exposure, environmental pollution, stress and by natural chronological aging.
Free radicals can damage and weaken the structural integrity and the skin and they can trigger an inflammatory response that can cause further damage.
Therosol® together with 9 other potent "super antioxidants", inactivate and destroy free radicals before they can damage the skin.
Restore and Revitalizing Oil is a proprietary and patented mixture of these 10 "super antioxidants" blended together with 7 natural, skin friendly oils.
The 7 natural oils contain polyphenolic anti-oxidants as well as Vitamin E, and essential fatty acids that support skin health.
10X Defense is a light and fast absorbing treatment for both the face and body. It will immediately soften and moisturize the skin.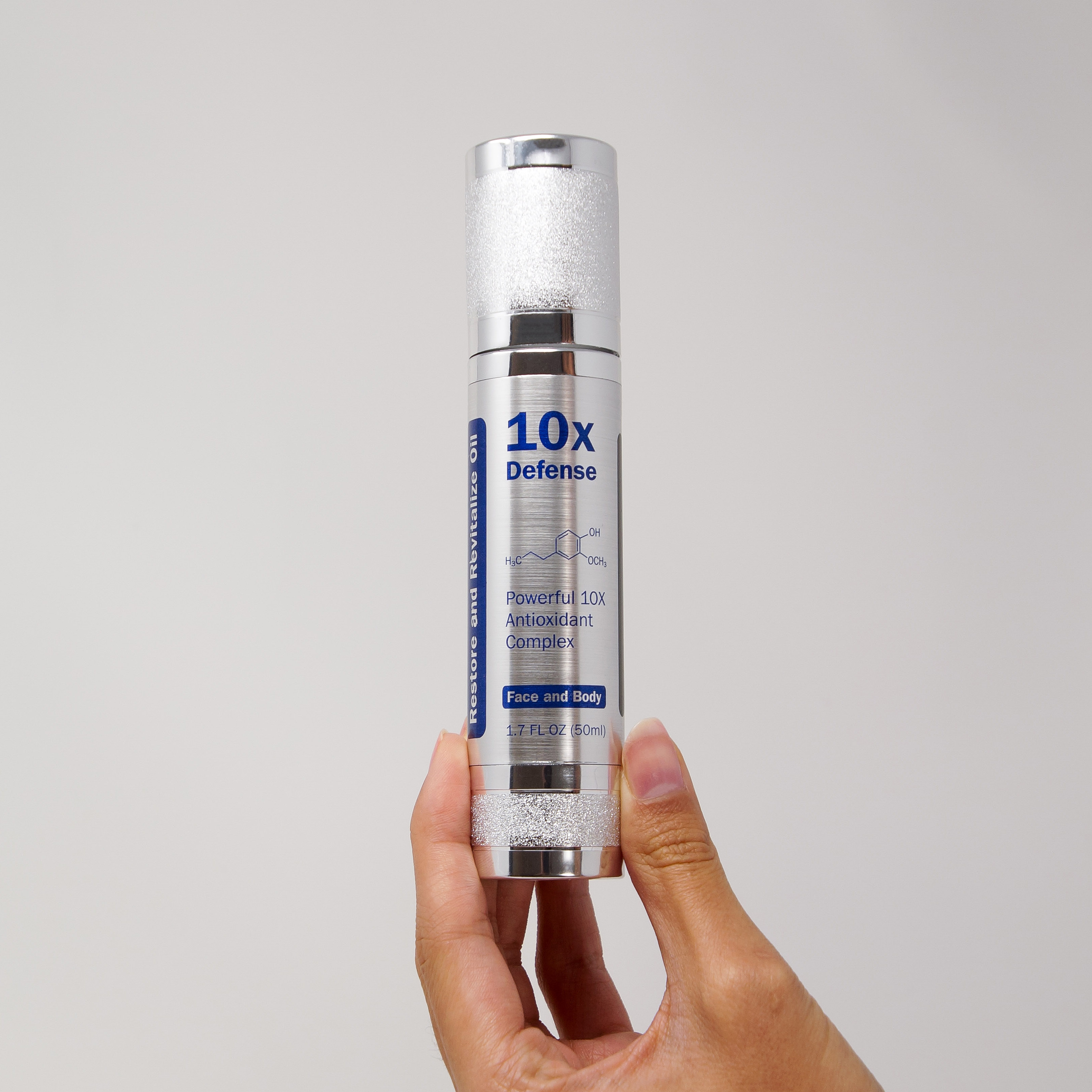 Directions For Use
---
Instructions for Use
10X Defense Restore and Revitalize Oil should be used at least once a day on skin that is exposed to environmental stressors like sun, wind and pollution. In addition, it should be used on areas of the body that are showing signs of skin aging, such as crepey skin that is thin, wrinkled and saggy. To apply, dispense 2 pumps of product into your hand or directly on the area to be treated. Gently spread the oil evenly across the skin and all it to absorb for a few minutes. There is no need to rub the oil into the skin. It absorbs quickly. For maximum benefits apply in the morning and before retiring in the evening.
Additional Info
10X Defense - Restore And Revitalize Oil
Ingredients
Please view our list below to learn about all our active ingredients.
Item Ingredients
Simmondsia Chinensis(Jojoba) Seed Oil, Squalane, PrunusAmygdalus Dulcis (Sweet Almond) Oil,Argania Spinosa (Argan) Kernel Oil,Aleurites Moluccan (Kukui) Nut Oil,Helianthus Annuus (Sunflower) SeedOil, Vitis Vinifera (Grape) Seed Oil,Caprylic/Capric Triglyceride, AlcoholDenatured, Ethoxydiglycol, TetrahexyldecylAscorbate, 4-Propyl Guaiacol, TocopherylAcetate, 4-Propenyl Guaiacol Acetate,Resveratrol, Tetrahydrocurcumin, FerulicAcid, Quercetin, Luteolin, Ethyl Vanillin,Phenoxyethanol (and) Caprylyl Glycol,Citrus Aurantium Dulcis (orange) Oil
Download MSDS Document
FAQ's
Sorry, there are currently no FAQ's for this product
Sorry, there are currently no FAQ's for this product
Don't see the answer you were looking for? Email us at Hello@dermamedics.com
What Our Customers Say
Product Reviews