dermamedics
Retinol Perfecting Serum 1oz
Retinol Perfecting Serum provides all the benefits of retinol in a gentle silicone based serum that is NON-IRRITATING. Unlike any other retinol product, this product combines 2 patented potent antioxidants with 3 different forms of retinol to produce a high concentration retinol product that will not cause redness, dryness or irritation. Specifically designed for sensitive skin.  Non-comedogenic and preservative-free.  1oz 
UPC: 0689396008045
FREE Shipping When You Spend $250+
Additional Info
Retinol Perfecting Serum 1oz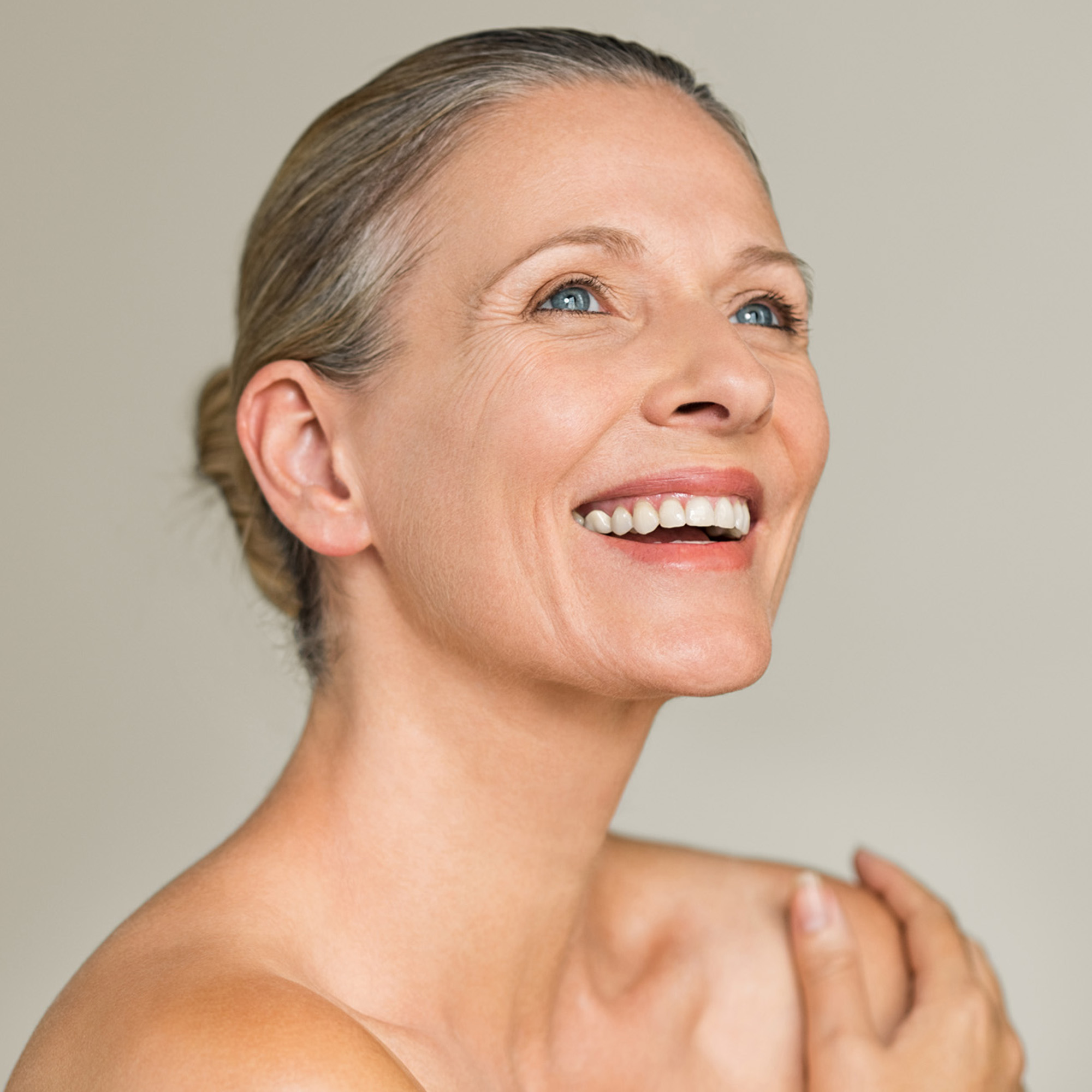 How It Works
---
Vitamin A is a naturally occurring chemical compound that has been shown in numerous clinical studies to improve the appearance of aging skin when applied topically. Many forms of Vitamin A exist, including Retinol, Retinaldehyde, Retinyl Propionate, as well as the most potent and prescription only form of the vitamin, Retinoic acid. While effective in visibly reducing fine lines and wrinkles and in promoting the appearance of a more youthful complexion, all forms of Vitamin A can cause skin dryness,redness, and irritation. In fact, up to 30% of consumers that start using a vitamin A topical product discontinue its use because of these unwanted side effects. But now there is DermaMedics' Retinol Perfecting Serum. This serum contains a high level of Retinol, and Retinol ester (Retinyl Propionate) complexed to DermaMedics' patented antioxidant, Therosol®, By forming this "triplex", DermaMedics has produced a breakthrough serum that provides all of the appearance improvements in aging skin one expects from a Vitamin A skin care product but WITHOUT the redness, irritation and dryness typically seen with Retinol products. Retinol Perfecting Serum is so gentle that it can be used all day, every day to restore a youthful glow to stressed skin.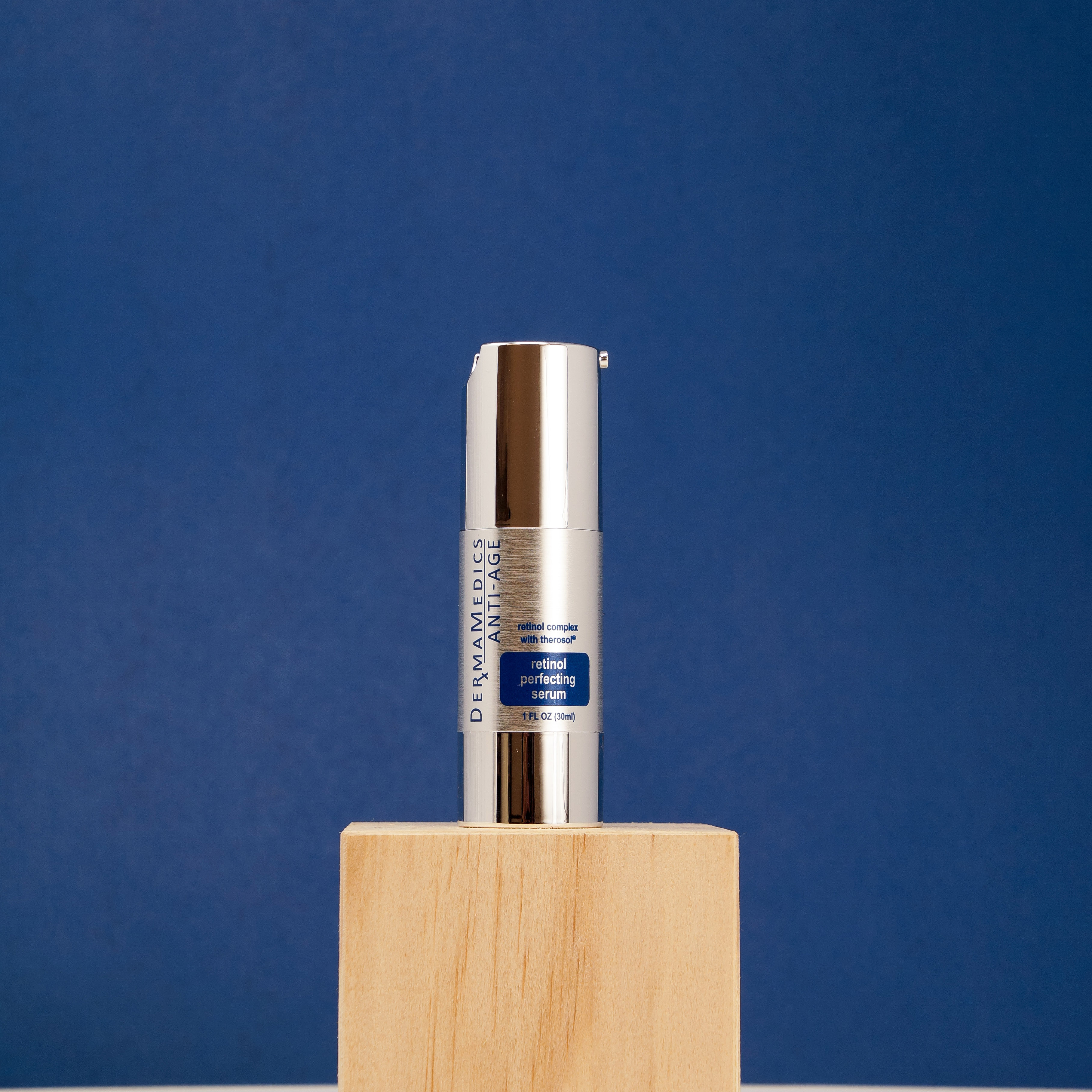 Directions For Use
---
1. Cleanse – Always apply Retinol Perfecting Serum to clean skin. Wet the face with warm water and apply 2-3 pumps of the soap-free and pH balanced, Foaming Facial Cleanser. Gently spread around face and allow to remain on face for at least 60 seconds before rinsing off. Rinse face with warm water and blot dry with a soft towel.
2. Retinol Perfecting Serum – After cleansing in the evening, apply a SMALL amount of Retinol Perfecting Serum to the face or other areas of concern. Spread the product evenly over the face and allow the product to absorb naturally. Do not rub it in. If more moisturization is required, once the Retinol Perfecting Serum has absorbed, the application of Facial Moisturizing Treatment is recommended. Retinol Perfecting Serum is gentle enough to use in the morning as well as in the evening. If applying Retinol Perfecting Serum in the morning, we recommend that a zinc oxide based sunscreen or makeup be applied after the serum has completely absorbed.
If you are a first time user of Retinol Perfecting Serum it is important that you first test the product on a small area of the face for at least 3 days before using it over large areas. Although the product has been proven to be gentle to skin, a 3 day test period is always recommended to make sure skin is compatible with this product. Rarely, those who have had a skin reaction to other retinol products in the past may have developed an allergy to that ingredients. (see below for more information).
Additional Info
Retinol Perfecting Serum 1oz
Ingredients
Please view our list below to learn about all our active ingredients.
Item Ingredients
Retinol Perfecting Serum
Cyclopentasiloxane (and) Dimethiconol, Helianthus Annuus (Sunflower) Seed Oil, Squalane, Simmondsia Chinensis (Jojoba) Seed Oil, Dimethicone, Retinyl Propionate, Retinol, Caprylic/Capric Triglyceride, 4-Propyl Guaiacol, 4-Propenyl Guaiacol Acetate, Fragrance, DC Yellow 11, DC Green 6, DC Red 17, Retinyl Propionate
Download MSDS Document
FAQ's
Is there a risk of skin allergy or reaction to senstive skin?
As stated above, Retinol Perfecting Serum contains Therosol® complex, a mixture of pure plant derived antioxidants. These ingredients are found naturally in olives, cloves, and cinnamon and have an excellent safety profile. However, since one or more of these ingredients is also found in perfumes, someone who had previously become sensitized to a perfume that contains these ingredient may then be sensitized to this product. In addition, if you have used a retinol product in the past and reacted to it, your skin may have an allergy to this chemicals. A sensitization reaction can occur very quickly and cause the skin to turn red and/or become itchy. This is why it is important to first test Retinol Perfecting Serum on a small area of your skin for at least 3 days before applying it to other areas of the face.
Don't see the answer you were looking for? Email us at Hello@dermamedics.com
What Our Customers Say
Product Reviews