dermamedics
Skin Tone Brightener Cream 1oz
DermaMedics has modified and strengthened the Skin Tone Brightener Cream by incorporating the Company's "10X Defense" proprietary blend of 10 powerful antioxidants into the formulation.  The new additions to the formulation include Resveratrol, Ferulic Acid, Tetrahydrocurcumin, Tetrahexadecyl Ascorbate (a stable form of Vitamin C), and Hydroxypinacolone Retinoate (a novel and potent form of Vitamin A).  The yellow color of the product comes from the Vitamin A derivative.  The 10 different antioxidants in this product block free radicals that can damage skin.  In addition, these antioxidants have been scientifically shown to reduce the appearance of dark spots.  This new formulation also uses a paraben-free preservative system.    1oz
UPC: 850019004250
FREE Shipping When You Spend $250+
Additional Info
Skin Tone Brightener Cream 1oz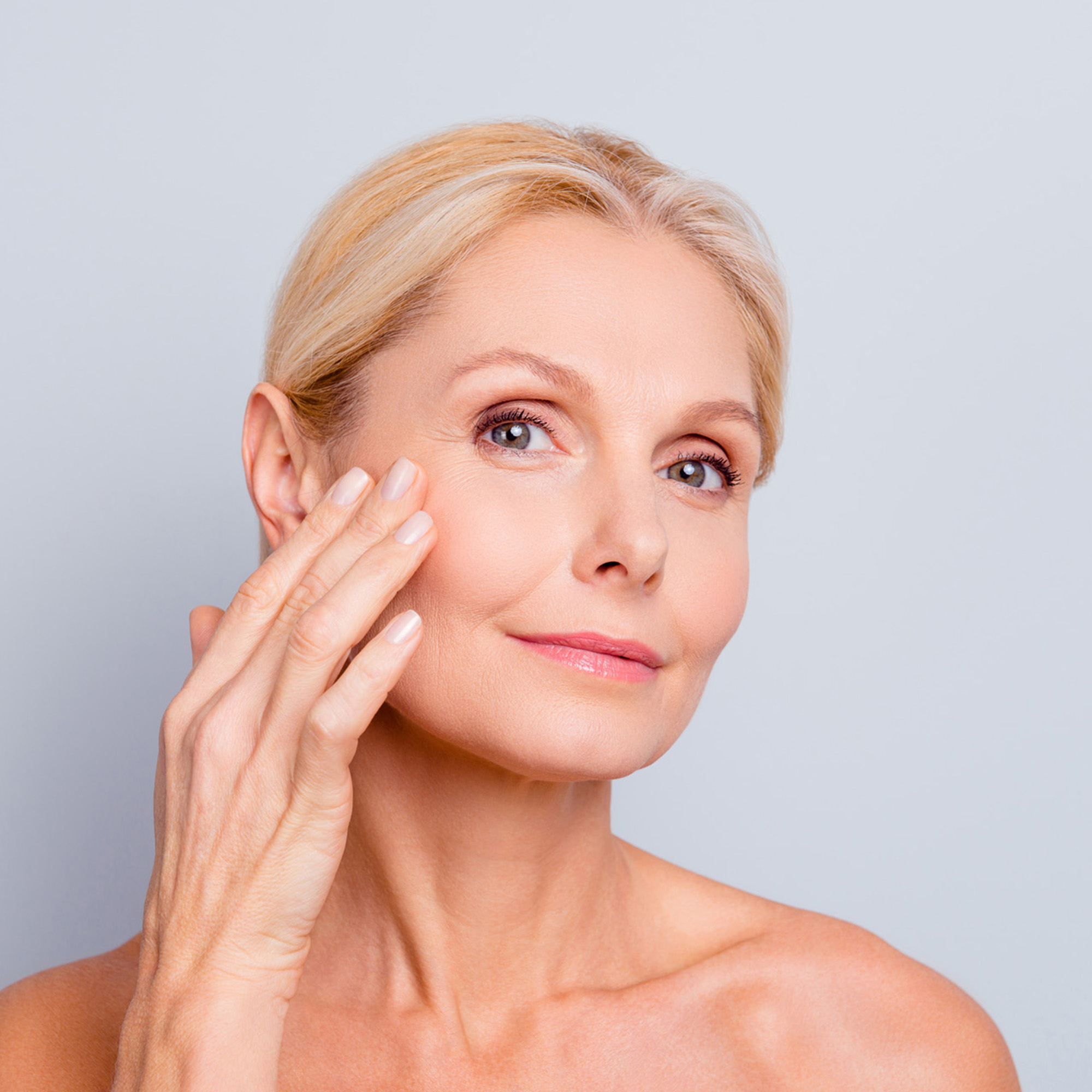 How It Works
---
Skin tone and the appearance of unsightly dark spots can be caused by a variety of factors including chronic sun exposure, hormonal influences (birth control pills/pregnancy), and inflammatory events. Whatever the cause, the presence of highly visible dark areas contributes to the overall aging appearance of the skin. There are literally hundreds of products on the market that are advertised as "dark spot correctors" because they are designed to visibly minimize dark areas on the skin. These products typically contain such ingredients as Arbutin, Vitamin C, Kojic Acid, Hydroquinone (an OTC drug), Licorice extracts, or Retinol. Products containing one or more of these compounds show varying degrees of efficacy with some producing visible lightening while others provide no benefits at all in reducing the appearance of dark spots.
Skin Tone Brightener Cream represents entirely new technology for addressing dark spots and uneven skin tone. This topical cream contains patented technology that works through three different mechanisms to minimize the appearance of even the most prononounced dark spots. By using a multi-step approach, Skin Tone Brightener Cream rapidly and effectively evens out skin tone and leaves the skin radiant, with a bright and vibrant youthful appearance. The cream is specifically designed to be effective in minimizing the appearance of even prominent, highly visible dark spots on the face, arms or hands. Skin Tone Brightener Cream also contains vitamin B3 and alpha and beta hydroxy acids to help increase skin exfoliation to eliminate surface spots. Skin friendly oils, squalane and jojoba oil help keep the skin moisturized and soft.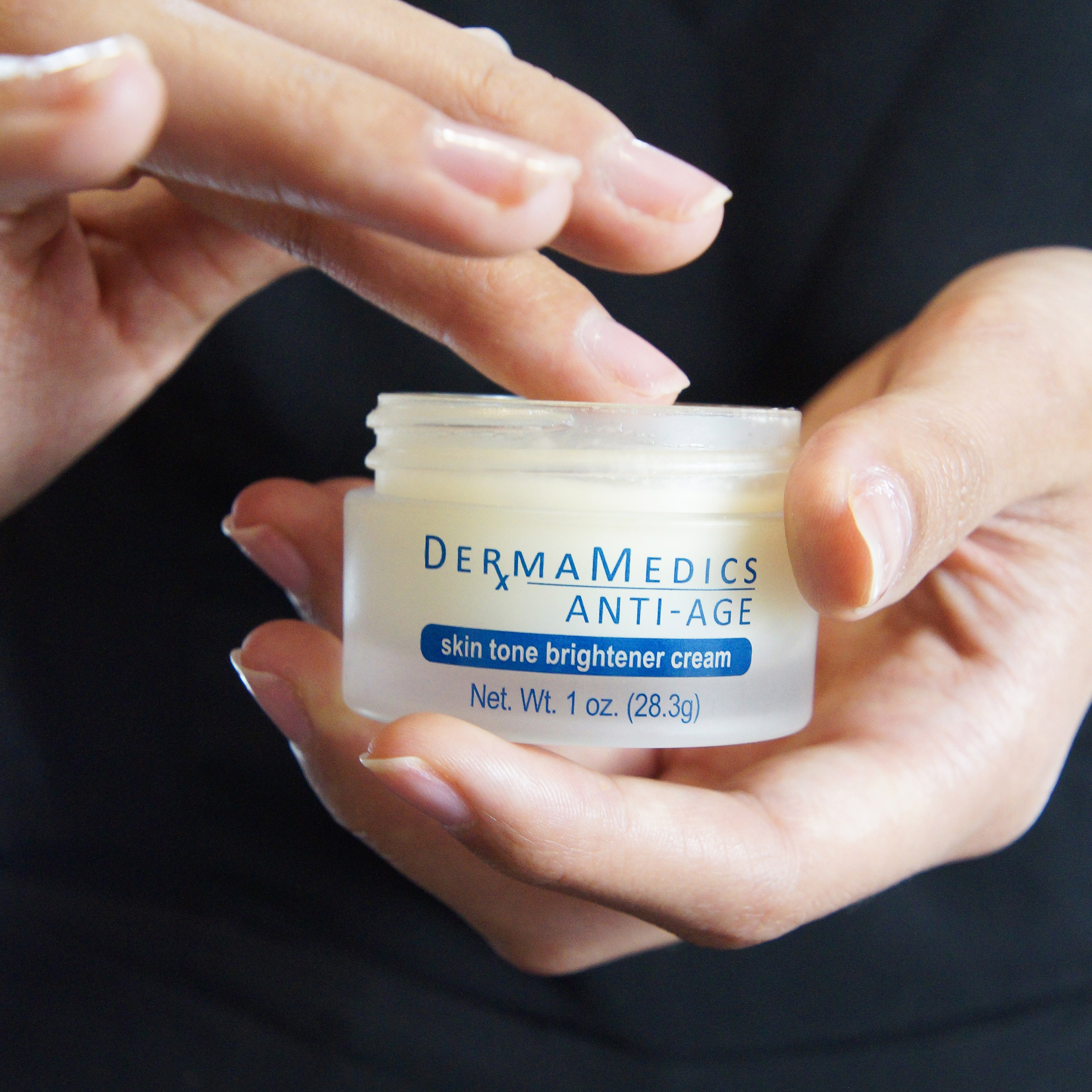 Directions For Use
---
1. Wash area with Foaming Facial Cleanser, rinse with warm water and blot dry.
2. Apply Skin Tone Brightener Cream twice a day to areas of concern. Visible improvement should be noticeable in less than 21 days.
3. Once desired results are achieved, the Skin Tone Brightener Cream should be used in the evening at least 3 times a week to maintain a balanced, youthful, and even skin tone appearance.
Because of the presence of both beta and alpha hydroxyacids in Skin Tone Brightener Cream, it is recommended that the skin be tested for sensitivity by applying a small amount of product to a nickel size area for 2 days. If no reaction develops, product can be used over larger areas of skin.
Additional Info
Skin Tone Brightener Cream 1oz
Ingredients
Please view our list below to learn about all our active ingredients.
Item Ingredients
Skin Tone Brightener Cream
Water, Glycol Stearate, Propylene Glycol, PPG-12/SMDI Copolymer, Triethanolamine, Citric Acid, Niacinamide, Cetearyl Alcohol (and) Ceteareth-20, Simmondsia Chinensis (Jojoba) Seed Oil, Glyceryl Stearate (and) PEG-100 Stearate, Squalane, Salicylic Acid, 4-Propenyl Guaiacol Acetate, Steareth-2, Steareth-21, Potassium Lactate, Tetrahexadecyl Ascorbate, Dimethicone, Polyacrylamide (and ) C13-14 Isoparaffin (and) Laureth-7, Propylene Glycol (and) Diazolidinyl Urea (and) Methylparaben (and) Propylparaben, Bisabolol, Hydroxypropyl Starch Phosphate, Carbomer, Polysorbate-20, Disodium EDTA
Download MSDS Document
FAQ's
Are there any concerns I should know about regarding the use of Skin Tone Brightener Cream?
Skin Tone Brightener Cream contains Therosol®, a mixture of pure plant derived ingredients. These ingredients are found naturally in olives, cloves, and cinnamon and have an excellent safety profile. However, since one or more of these ingredients is also found in perfumes, someone who had previously become sensitized to a perfume that contains these ingredient may then be sensitized to this product. A sensitization reaction can occur very quickly and cause the skin to turn red and/or become itchy. This is why it is important to first test on a small area of your skin for at least 3 days before applying it to other areas of the face.
Don't see the answer you were looking for? Email us at Hello@dermamedics.com
What Our Customers Say
Product Reviews