dermamedics
DermaRad Relief Complete Bundle
This bundle contains 1 Gentle Foaming Cleanser 5oz bottle, 4  Topical Rehydrating Emulsion 3 oz tubes, and 1 Post Radiation Serum 1.7oz bottle, all packaged in a zippered bag. This bundle provides ultimate comfort and moisturization for patients undergoing radiation treatments.  The soap free cleanser in this bundle is soap-free and pH balanced for sensitive skin.
FREE Shipping When You Spend $100+
Additional Info
DermaRad Relief Complete Bundle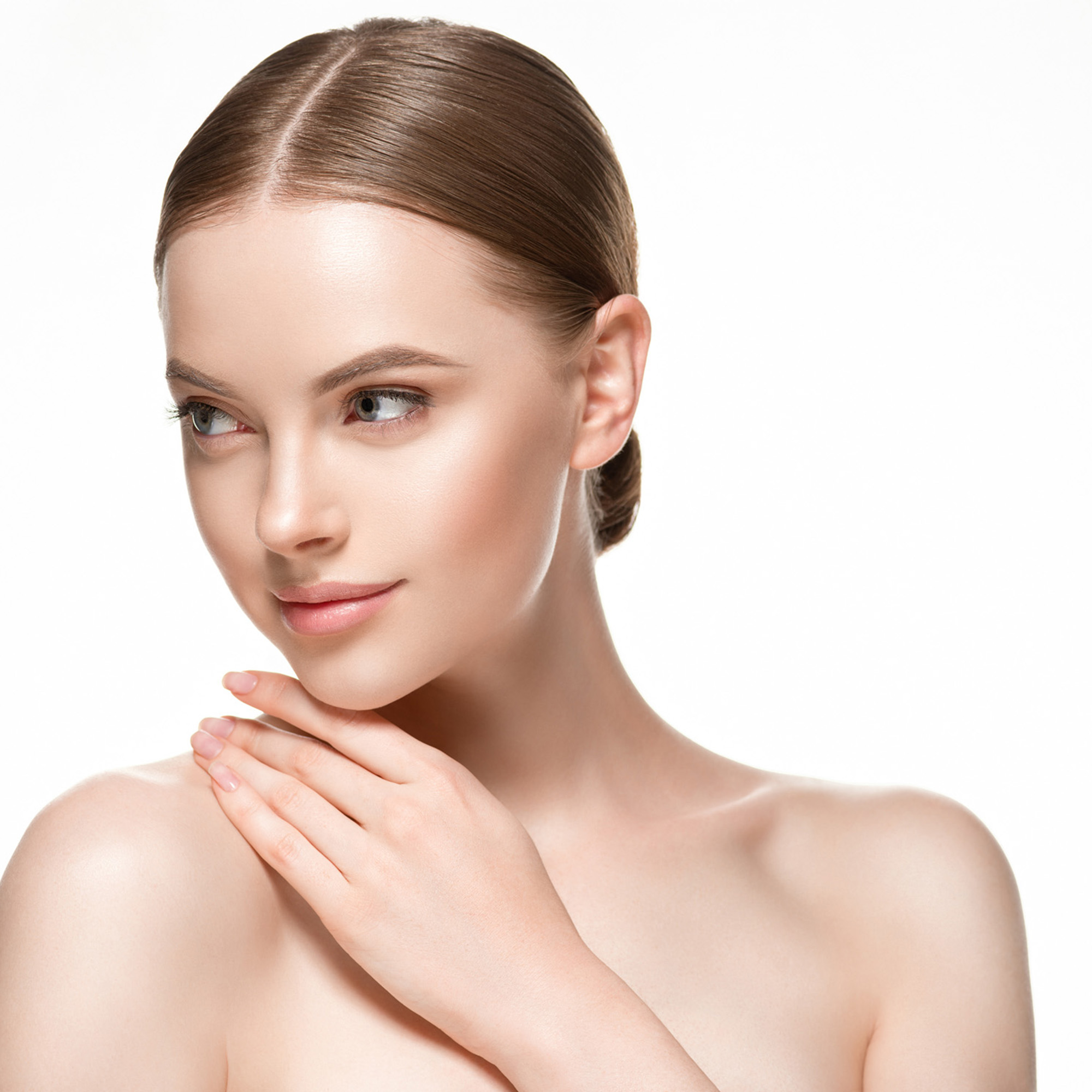 How It Works
---
DermaRad Relief Bundle Includes:
4 Topical Rehydrating Emulsion 3oz tubes
1 Gentle Foaming Cleanser 5 ounce
1 Post Radiation Calming Serum 1.7oz bottle
This bundle contains all of the DermaRad Relief products needed to provide the most gentle and effective solution for maintain a healthy, moisturized complexion throughout radiation treatments. Soothe your skin and reduce dryness, rough texture and redness with the daily use of these products.
DermaRad Relief Topical Emulsion is effective in delivering high levels of moisturization to help reduce dryness and redness. For maximum effectiveness the product should be used as instructed. Because it is so gentle, it can and should be used as often as needed to keep the skin moisturized.
DermaRad Relief Post Radiation Calming Serum is a cosmetic silicone based serum that contains NO emulsifying agents, which can sting when applied to extremely dry or damaged skin. This serum contains 3 skin friendly oils to keep skin moisturized and hydrated. It can be used without discomfort on even the most sensitive skin.
DermaRad Relief Gentle Foaming Cleanser is the only cleanser that should be used on skin that has become dry, rough and irritated from radiation treatments. Unlike other cleansers that contain harsh alkali based cleansing agents or lauryl sulfates which can damage the skin and cause more dryness, this Foaming Cleanser contains 2 very gentle surfactants that clean without drying out the skin. In addition, the cleanser is pH balanced to 7 which is much closer to the skin's own pH than a pH of 10 or 11 that is typical of most soaps and cleansers. Finally, the cleanser dispenses as a foam which can be spread gently on the skin without rubbing.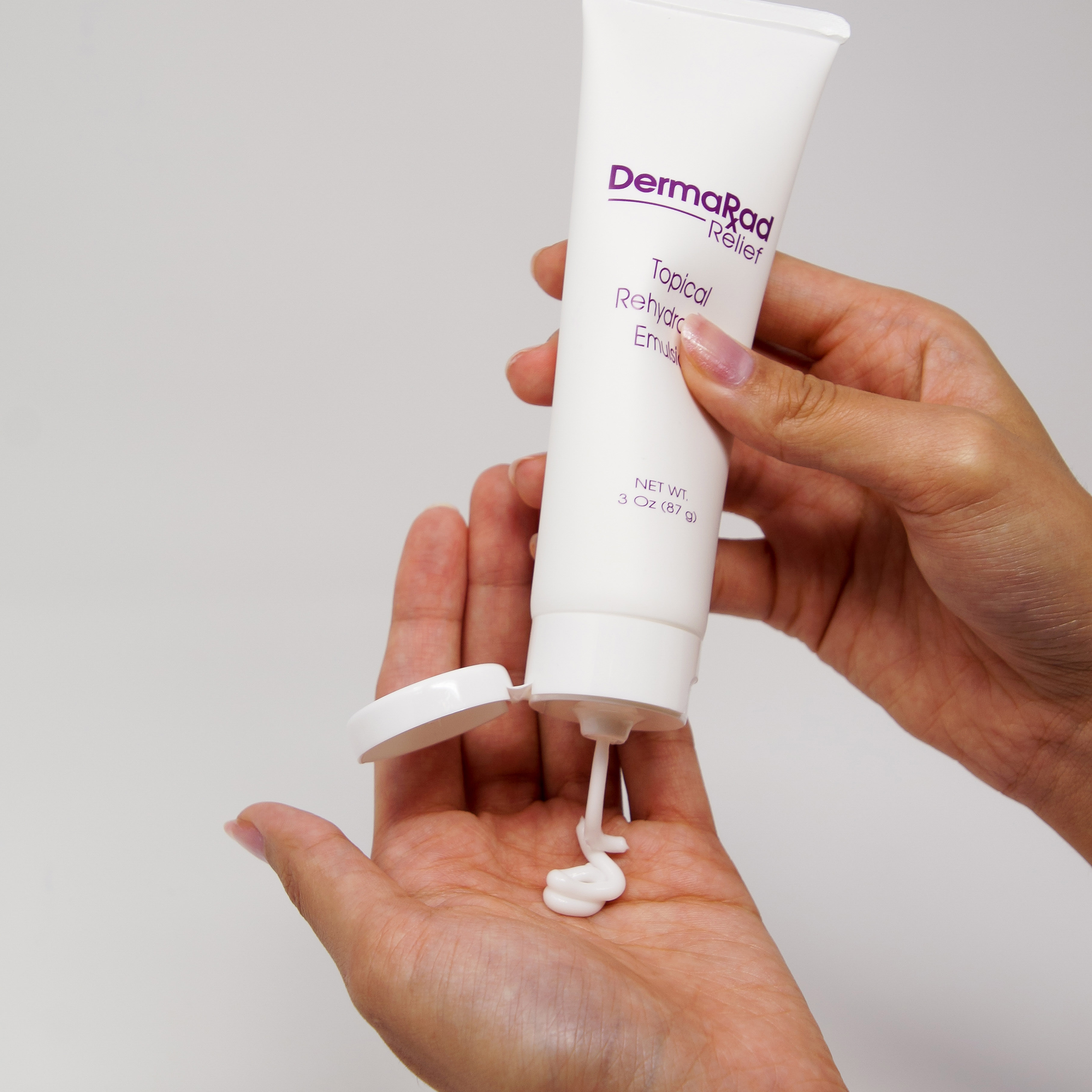 Directions For Use
---
Instructions for Use
Please follow all instructions printed in the use pamphlet included with this kit.
DermaRad Relief Topical Rehydrating Emulsion
It is VERY important that patients follow the specific use instructions included with the product. DermaRad Relief should be used LIBERALLY on skin being treated with radiation. The product should be used at least 3 times over a 24 hour period, and even on weekends. The product should not be applied within 4 hours of radiation treatment. Four tubes of product are provided with the kit. A physician should always be consulted on the use of any skin care product, including when and when not to apply product.
The use of DermaRad Relief more frequently than 3 times per day is recommended, especially immediately after any event that could cause skin dryness. At least 2 hours should elapse after applying DermaRad relief before taking a shower or bath to ensure that the moisturizing ingredients in the product are allowed to penetrate. Missing even one application can cause some skin appearance changes including dryness and redness.
DermaRad Relief Post Radiation Calming Serum
For patients who have purchased this kit only after the start of their radiation treatments and whose skin is already red, burned or blistered, the Calming Serum is an ideal product to apply to damaged skin. Unlike all creams and lotions, this product is a gentle silicone based serum that contains no emulsifiers (soap-like chemicals that are required for lotions and creams) that can often sting abraded and blistered skin. Calming Serum easily glides onto the skin with no effort and no rubbing necessary. Because of the high level of moisturizing oils in the product it will immediately soothe red and even blistered skin. Once this product has been applied to the treated area, the stronger product, DermaRad Relief Topical Rehydrating Emulsion should be applied to maximize the moisturizing and rehydrating benefits of the lotion. The Rehydrating Emulsion should be used throughout all of the radiation treatments, while the Calming Serum should be used on damaged skin, if needed to minimize discomfort prior to applying the Rehydrating Emulsion.
Gentle Foaming Cleanser
The skin that is being treated with radiation should be cleaned with the Foaming Cleanser at least twice a day. Dispense a rich foam onto your hands and gently apply this to the skin with a light circular motion. Leaving the cleanser on the skin for 1 minute will help maximizing cleansing. After 1 minute rinse with warm water and blot dry. This cleanser is soap-free and will not dry out sensitive skin or make it feel tight. The Cleanser is also pH balanced to the same pH as your skin to ensure mildness.
Additional Info
DermaRad Relief Complete Bundle
Ingredients
Please view our list below to learn about all our active ingredients.
Item Ingredients
DermaRad Relief Topical Rehydrating Lotion
Water, Glycerin, 4-Propyl Guaiacol, Dimethyl Isosorbide, Propylene Glycol, Stearic Acid, Niacinamide, Squalane, Simmondsia Chinensis (Jojoba) Seed Oil, Caprylic/Capric Triglyceride, Cetearyl Alcohol (and) Ceteareth-20, PPG-12/SMDI Copolymer, Glycol Stearate, Cetyl Alcohol, PEG-100 Stearate, Sodium PCA, Glyceryl Stearate (and) PEG-100 Stearate, Tocopheryl Acetate, Dimethicone, Petrolatum, 4-Propenyl Guaiacol Acetate, Propylene Glycol (and) Diazolidinyl Urea (and) Methylparaben (and) Propylparaben, Hydroxypropyl Starch Phosphate, Carbomer, Triethanolamine, Disodium EDTA
DermaRad Relief Post Radiation Serum
Cyclomethicone (and) Dimethiconol, Cyclopentasiloxane (and) Dimethicone/Vinyl Dimethicone Crosspolymer, Squalane, Simmondsia, Chinensis (Jojoba) Seed Oil, Petrolatum, Helianthus Annuus (Sunflower) Seed Oil, Dimethicone, 4-Propyl Guaiacol, 4-Propenyl Guaiacol Acetate, DC Violet 2, DO Green 6
Gentle Foaming Cleanser
Purified Water, Decyl Glucoside, Sodium C14-16 Olefin Sulfonate, Glycerin, Sodium Cocoyl Isethionate, Butylene Glycol, PEG-7 Glyceryl Cocoate, Sodium PCA, Propylene Glycol (and) Diazolidinyl Urea (and) Methylparaben (and) Propylparaben, PEG-5M, Disodium EDTA, 4-Propyl Guaiacol, Lactic Acid, Fragrance
What Our Customers Say
Product Reviews